PRIZES AND AWARDS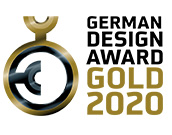 Magneto
At the base of every construction structure lies concrete, which has now been restyled with metal-look finishings in Gold, Rust, Corten, Arctic, Silver and Carbon.
MAGNETO is the answer to the need to write stories through one's own surroundings, to define them in an original manner, making them truly unique.
It is a material that combines the traditional with the contemporary, warmth with cold, pale with dark, paying particular attention to brightness. MAGNETO offers rough surfaces that are concurrently incredibly versatile in the light, whether natural or artificial.
Every piece has a rough and worn vibe that makes it enjoyable to look at and to touch.