Fiandre Architectural Surfaces continues to pursue sustainability and innovation by bringing to market a new collection designed with environmental awareness in mind.
Ethically designed, the two surfaces' formats eliminate material waste compared to more common sizes in residential homes: 120 x 270cm conforms to the minimum ceiling height for habitable rooms, while 120 x 120cm is compatible with the standard dimensions of shower trays in many countries. Reducing the amount of waste materials is only part of a broader sustainability approach adopted by the Fiandre Architectural Surfaces brand, which produces its large-size tiles in facilities that do not release harmful substances or odors into the atmosphere.
The tiles' R10 A+B slip resistance coefficient (Pietre Maximum) makes them perfect for tiling washbasins, showers and shower trays in bathrooms, areas with high humidity such as spa facilities and swimming pools, and also partly-covered outside areas such as loggias, patios and terraces.
These new textures can also be installed in other settings such as private residences, hospitality facilities, shops and showrooms. In addition, their 6 mm thickness means that they can be easily applied to furnishings and architectural features.
Explore the FIANDRE collections that feature this innovation: IL VENEZIANO, PIETRE MAXIMUM and MARMI MAXIMUM.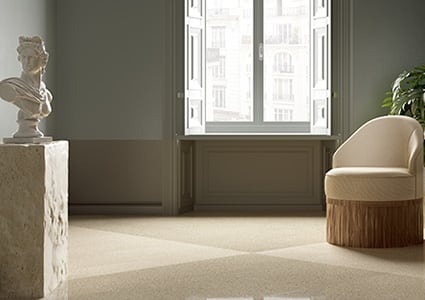 Following in the footsteps of this quintessential trend, Il Veneziano echoes the magnificent traditions of age-old, artisan craftsmanship. In full-body ceramics, classical terrazzo tiles deliver tremendous architectural impact.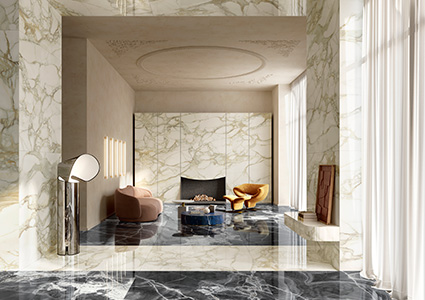 Marmi Maximum offers fine, decorative solutions, enriched by inimitable colour variations and vein effects that are always unique.The size of Marmi Maximum is not the only remarkable feature that makes them comparable to the most exquisite and rare quarry marbles.
+3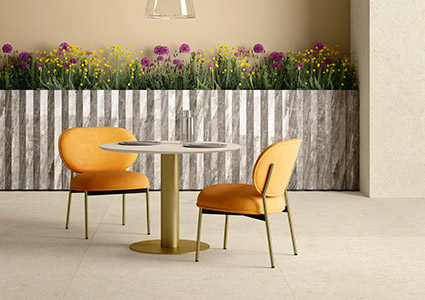 Pietre Maximum is a decidedly tactile range of surfaces for architecture and interior design. Two new technical porcelain surfaces with an exceptionally attractive appearance and recognized technical performance: Quarzite Vals and Luna Limestone.