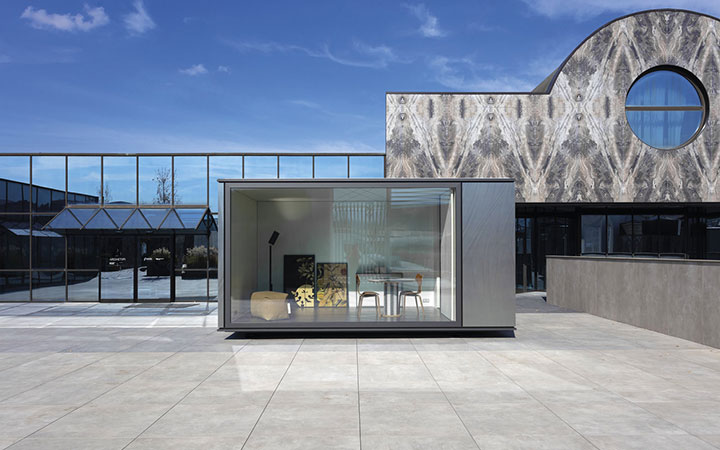 MA with Luce, Hypertouch and Active Surfaces®: a unique and innovative mind room for Fiandre Architectural Surfaces headquarters
(Castellarano, Reggio Emilia, Italia)
The start-up project MA by the Austrian conceptMA comes to Castellarano and the Fiandre Architectural Surfaces showroom, becoming a theatre for presenting three major innovations by the Iris Ceramica Group: the Luce collection by Guillermo Mariotto, the new Hypertouch system and ACTIVE SURFACES®.
Fiandre Architectural Surfaces opens the doors of its most representative showroom at the headquarters in Castellarano (Reggio Emilia), to unveil unique projects and innovations as well as some extraordinary new surfaces. A new design concept makes its début in the outdoor area on the first floor in Via Guido Reni. This is MA, a unique range of living pods developed by the start-up ConceptMA GmbH, founded by Fabian Weidinger, Gregor Pils and Erwin Stricker.
MA was born to respond to the need for a physical, stimulating space where new ideas can be developed, a place designed to be in harmony with the surrounding environment, deliberately leaving the stress of hectic everyday life "outside the door". Where existing living or working spaces are not enough, MA becomes an extension focusing on well-being, concentration, creative stimuli, and - why not - privacy and total relaxation.
Compact, yet at the same time sufficiently large and comfortable, MA has been designed down to the finest detail, with top quality materials and finishes, designed for spending a long time in. A living area with large windows brings natural light inside while offering a view of the outside; it has all you need for a break, with an area equipped with a washbasin, fridge and tea-making equipment, as well as a wardrobe.
MA's underlying know-how in wood construction and its in-depth knowledge of the most pioneering sustainable materials, make this project a masterpiece blending craftsmanship and technology.
MA's main structure is made of solid cross-laminated timber with ecological stonewool, while the external and internal surfaces are covered with Fiandre Architectural Surfaces technical ceramics, to ensure perfect insulation. MA also has a latest-generation HVAC system, combined with an innovative heat recovery and ventilation system, Keyless GO opening and closing systems and Wi-Fi.
The project was designed to be replicated in series and transportable by road.
To protect the hygiene and comfort of the guests, the wardrobe and mini-break area, including the washbasin, are made with ACTIVE SURFACES® photo-catalytic, antibacterial, antiviral and anti-pollution ceramic surfaces, which can also eliminate 94% of the SARS-CoV-2 virus after just 4 hours of exposure to natural light or conventional low-intensity bulbs.
The MA module commissioned by Fiandre Architectural Surfaces for its headquarters in Italy was made in a special version covered in LUCE, the new collection designed by fashion designer Guillermo Mariotto for the Iris Ceramica Group. Luce offers a new, iridescent and 3-dimensional vision of ceramic surfaces, inspired by intangible precious fabrics that interact with the light - hence the name - bringing architectural spaces into a new dimension.
MA is also equipped with the Hypertouch system, the innovative, concealed capacitive technology applied to ceramic surfaces that enhances design functions, eliminating ugly external cover plates and switches. An integrated system of automatic sensors is activated simply by lightly touching Hypertouch, in this case specifically to switch the lighting systems on and off but also to manage audio-video systems, windows and temperature control. An exclusive technology, created and patented by the Iris Ceramica Group and applicable to Fiandre ceramic slabs.
MA + LUCE + HYPERTOUCH credits:
c/o FAB Fiandre Architectural Bureau
Via Guido Reni 2/R
42014 Castellarano (RE), Italy
Project and Production: ConceptMA GmbH
Designers: Fabian Weidinger, Gregor Pils, Erwin Stricker
Façades: LUCE by Guillermo Mariotto for Iris Ceramica Group
Floor / Wall Coverings: LUCE by Guillermo Mariotto for Iris Ceramica Group
Washbasin: Basalto ACTIVE SURFACES®
Table: Studio MILO
Lighting activation: Hypertouch by Iris Ceramica Group